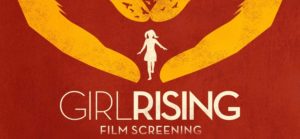 Desmos inaugurated the program "Desmos Gives Warmth!" on Wednesday December 4th with the screening of the film GIRL RISING at the Theater of Athens College – Psychico College in Psychico.
All proceeds from the event will be utilized exclusively for the program "Desmos gives warmth!" for the provision of heating fuel for schools and social service providers in Greece that otherwise risk not being able to operate properly due to the upcoming winter and the budget cuts and reduced government grants.
The "Desmos gives warmth!" program is a continuation of last year's "Desmos for Schools" project, which was made possible thanks to the donation of PAPASTRATOS, a subsidiary of PMI, for the purchase and provision of heating fuel. Thanks to this collaboration 47 schools in Northern Greece were supplied with heating fuel keeping classrooms warm for a total of 2.409 students!
The aim of this year's independent campaign is to expand and include both organizations and schools throughout the country.
Those wishing to support our campaign "Desmos Gives Warmth" can send their contributions via bank deposit to ALPHA BANK GR 1101401240124002002007025, Acc. Holder: Desmos (Please write your name and the word "Warmth" on the deposit slip) or via Paypal (completing your name and the word "Warmth" on the deposit description). Paypal (please add "Warmth" as a note)
Thank you to Maria Maraki (
http://www.mariamaraki.com/
) and Nikos Galanis for the wonderful photos taken at the event! Thank you axton.gr company (
http://axton.gr/
)
for our volunteers' tops, as well as BARETC
(
https://baretc.eu/
) for the supply of wine. But above all we would like to thank our wonderful volunteers who are there and support us whenever we need them!