DESMOS was founded in 2012 with the mission to bridge the gap between the private sector and the needs of social welfare and humanitarian organizations in the most efficient and transparent way for maximum positive impact. We work closely with over 800 charitable and public organizations across Greece – schools, hospitals, homeless shelters, orphanages, among many others – to document their needs and distribute resources where they are mostly needed. We support all types of organizations anywhere in Greece, so they can focus on what they do best: help vulnerable people in need.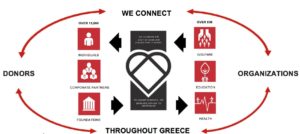 Our operation is based on transparency, accountability and impact assessment.  We work both on a project basis or you can donate directly in kind through our platform DesmosDirect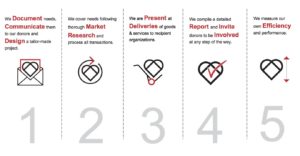 In six years of operation, Desmos has become one of the most dynamic and impactful giving hubs in Greece. The Deloitte Impact Assessment completed in April 2018 on our entire operation, as well as specific donor-tailored projects and nationwide initiatives, shows that our commitment to lean and efficient giving processes, returns 9€ to the Greek economy, for every 1€ spent on Desmos' operations. Every donation through Desmos has not only supported a wide range of charitable causes and vulnerable groups, it has also generated over €7 million for our society at large.