On September 7th, at 8:30 pm, Desmos and Anna Vissi are organizing a concert with free admission to all, at NAOMA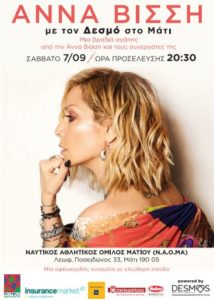 A Concert filled with hope dedicated to the strength of life and the regeneration of the area
Anna Vissi will sing and send her own message of giving through Desmos.
Desmos Non-Profit Foundation was on site from the day after the devastating fires in the area, and through the use of the donations it was granted, was able to help members of the local community cover immediate needs in terms of alimentation, medicine, fuel and other necessary goods.
Following this, Desmos designed and implemented renovations of playgrounds and stadiums that were either destroyed in the fires or deemed unsuitable for use, in order for them to be transformed into locations where the locals could gather and enjoy themselves once again.
The three renovated playgrounds in Mati, Neos Voutzas and NAOMA as well as the Basketball and Volleyball courts and the surrounding area of NAOMA were upgraded and modernized and once again have become a beacon for the locals.
NAOMA, a landmark of the area, has always been a reference point for the locals.  It is where 700 people took refuge the day of the devastating fire, while it also was the venue where most volunteers gathered the day after and worked out of for the next 2 months, in order to provide help to those in need.
Anna Vissi immediately responded to Desmos' call for a concert following the completion of the first phase of our work there, as she too has strong ties with the area.  She offered to sing- free of charge- in a special night filled with love.  She will sing for the residents and hopes to offer them joy and hope.
We will all be there!!