An unusually large number of people flooded NAOMA on Saturday September 7th, 2019 in a magical evening with Anna Vissi and DESMOS for Mati.  The concert was organized by the Non-Profit Foundation DESMOS and Anna Vissi was quick to accept Desmos' invitation for her to sing – at no charge- in order to celebrate the completion of the first phase of Desmos' work in the area.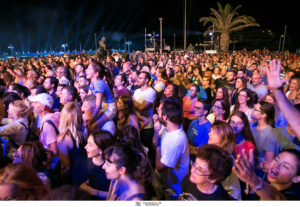 DESMOS, responding to the needs of the local community, in under a year was able to rebuild playgrounds, basketball and volleyball courts and other public spaces thanks to the donations made by 24 companies and over 300 individuals.
In an unforgettable, warm and very unique evening, Anna Vassi sang with her heart along with the residents of the area, an area she too has many fond memories of, and she sent a message of joy, love and optimism. A message for life that goes on…. A message filled with hope.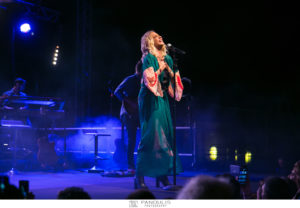 Anna Vissi was genuinely emotional as she got on stage and asked from the crowd to hold a moment of silence in honor of all those that were lost in the devastating fires.  She went on to add " Today, I would only like to share the love we have for these beautiful neighborhoods, that Desmos took care of this year in order to make them even more beautiful and we thank them for this.   Because these are the venues that bring people together, where your children and ours and our grandchildren play, and enjoy themselves.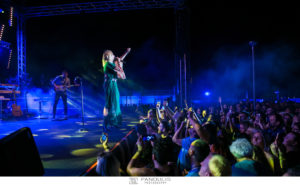 The area deserves a lot, it is such a beautiful place, and I hope to see it again filled with joy, optimism and many colors, like we see it here today".
The concert took place at NAOMA, reconstructed this year by DESMOS,  a landmark in the area and for the local community.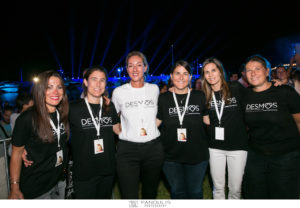 Desmos was awarded an honorary plaque from the Board of Directors of NAOMA for its overall work in the area.  The President of Desmos' Board, Ms Alexia Katsaouni, thanked them stating "from the first moment we were here, on site, hoping to help the local community find its smile again and a piece of normalcy in their life.   Above all else, it is our pleasure that we were able to carry out this great work.  Rest assured, there is more to come"
Mr Tsirkas, Mayor of Marathon attended this special concert, along with representatives of the police, the coast guard and over 3,000 friends and members of the local community of Mati and the surrounding areas.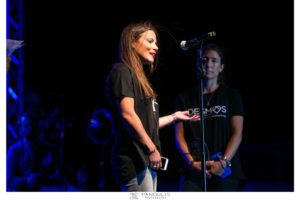 DESMOS Non-Profit Foundation would like to express its' heartfelt gratitude to Anna Vissi, for accepting to participate at no cost, its sponsors for the evening for their great support as well as the administration of NAOMA for the hospitality, the local authorities and last but not least the wonderful volunteers that helped make the evening come true.